Triline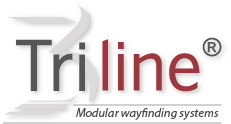 Wayfinding uplifted to functional architectural decoration.
---
Triline® offers you suitable answers to all your signage needs in a public as well as in a private environment thanks to the modern, elegant and ingenious design. 
Triline® selects materials and accessories of a superior quality, guaranteeing durability and stability of the product and at the same time offers competitive prices on an international level.
 This result is successfully accomplished by many years of study, research and experience in the field.

Professionals such as project developers, (industrial) architects, interior designers, contractors and signmakers have already acknowledged and understood the technical advantages of Triline®.
 They noticed very soon that the concept behind these systems offers an inexhaustible versatility for creation of architectural building signage, synoptic panels, exterior signage (columns/totems) and illuminated signage. Triline® brings eye-catching total solutions with an amazing technical simplicity. 
Moreover the systems remain price conscious without however making concessions to the quality.

Triline®
- offers you unlimited possibilities for your "building communications", simple or complex;
- connects seamlessly to all your wishes and requirements, as standard issue or made-to-measure;
- is synonymous of modularity, design and durability and it is the result of many years of research and an intense product development;
- combines functionality with design and gives an aesthetic surplus value to your architectural living and working space;
- enhances your image and contributes to your professional presence;

- co-ordinates 7 basic product lines each having an own character and field of application.
Det er ingen produkter i denne seksjonen